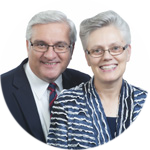 Michael and Dianna Tuttle
Regional Director
Europe/Middle East
Michael is a graduate of Conquerors Bible College. He attended Summer Institute of Missions-Gateway College of Evangelism, and while serving in Germany completed his fourth year of Bible School training under the CBC's Internship program. While studying at Heidelberg University he taught many Bible studies to students, and also taught at the Military District's Bible school. In 1982 Michael, wife Dianna & son Matthew left for Germany. They served as AIM missionaries from 1982-84 to the U.S. & NATO Military personnel in Baumholder, Germany. In Spring 1984 they were appointed career missionaries to Holland, where they served until being appointed as Regional Director for Europe and the Middle East Region, January 1, 2011.
Oregon Deputation Schedule
Nov 10 Tuesday Bend (Johnson)
Nov 11 Wednesday Gresham (Graves)
Nov 12 Thursday Hood River (Edday)
Nov 13 Friday Section 1 GM Conference
Nov 14 Saturday Oregon City (Gleason)
Nov 15 Sunday AM Oregon City (Gleason)
Nov 15 Sunday Mid Beaverton (Brock)
Nov 15 Sunday PM Oregon City (Gleason)
Request This Missionary
To request one of the open dates above, please email your request to orglobalmissions@gmail.com and I will get back to you shortly with a response.