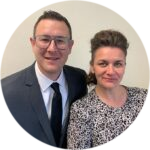 Missionary
,
United Kingdom, Wales
Kyle and Amanda have been serving as assistant pastors in Salem, Illinois for the last ten years. They previously served in youth ministry for six years in Salem. They have served on the Illinois District North American Missions committee, Illinois District Youth Committee and helped in planning and organizing various other district events. They also served on the AIM program for one year in Glasgow, Scotland, overseeing Harvest Bible College.
Oregon Deputation Schedule
Aug 17 Tuesday OPEN
Aug 18 Wednesday Bend (Johnson)
Aug 19 Thursday Oregon City (Gleason)
Aug 20 Friday OPEN
Aug 21 Saturday OPEN
Aug 22 Sunday AM
Gresham (Graves)
Request This Missionary
To request one of the open dates above, please email your request to orglobalmissions@gmail.com and I will get back to you shortly with a response.